With PicoSure Laser Focus, achieving a youthful, fresh appearance is now attainable without the traditional pain and recovery time associated with invasive cosmetic procedures. This cutting-edge technique, which can eliminate undesirable pigment and lessen the appearance of wrinkles and acne scars, is now available at a DSC Laser and skin care center in Los Angeles, California. This ground-breaking advancement in laser technology delicately targets and removes pigment from the skin in trillionths of a second without damaging the surrounding skin.
Our DSC Laser and Skin care center in Los Angeles places the most importance on ensuring skin treatments are appropriate for all skin types due to the racial diversity prevalent in London and some nearby countries. We are pleased to recommend the PicoSure laser for the eradication of skin pigmentation on Asian skin because of this.
Unfortunately, prior skin Lasers were not always effective for treating Asian skin types. The fantastic news is that the PicoSure laser, with its soft, light-based rather than heat-based approach, completely suits Asian skin types.
WHAT IS A PICOSURE LASER?
PicoSure, the wonderful laser that allows us to deliver the most recent advancements in tattoo removal technology, can also erase or minimize a variety of undesirable pigmentation, such as age spots, freckles, and birthmarks. PicoSure Laser Skin Revitalization therapies, when combined with the proprietary FOCUS Lens Array, can revive the skin in a variety of ways. Furthermore, this technology requires fewer treatments to obtain the desired results.
HOW DOES PICOSURE LASER WORK?
The PicoSure laser emits laser energy in extremely small bursts. These ultra-short energy bursts cause a tissue reaction in the skin, resulting in a reduction in pigmented skin lesions, wrinkle-smoothing, acne, and another scar improvement, and a rise in collagen and elastin. This results in skin that is brighter, smoother, and younger appearing.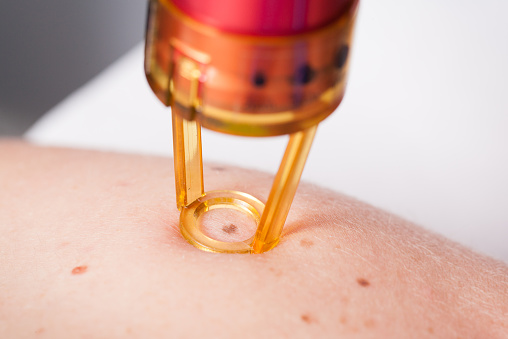 WHAT ARE THE RESULTS OF PICOSURE LASER TREATMENT?
PicoSure treatments, using the focus lens array, can reduce sun spots and aberrant brown pigmentation caused by excessive sun exposure and fine lines and wrinkles. It can also be used to treat acne and other forms of scarring. These outcomes are unique to PicoSure since they are produced without redness, downtime, or pain. Most patients will require between two and five PicoSure treatments spread at 4-6 week intervals, depending on the condition being treated and the patient's skin type.
WHAT ARE THE ADVANTAGES OF PICOSURE LASER?
1. Clear Tattoos, Wrinkles, Unwanted Pigment ( pigmented lesions), and Acne Scars (acne scarring)
The PicoSure Laser's unique Focus Lens allows it to efficiently and effectively eliminate most pollutants from the surface of your skin. It is not only capable of removing natural impurities but is also well-known for its capacity to remove tattoos. Through an energy pulse targeting technology, the PicoSure Laser can remove even the darkest ink from tattoos. The laser may target particular cells and generate Pressure Waves, which shatter ink particles in the skin. This works well on brighter tattoo colors like red, orange, and yellow. The Focus Lens can reduce its aiming width for darker tattoo colors, allowing it to focus more energy on the ink's location.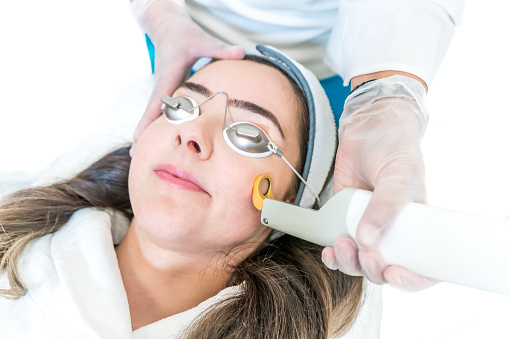 2. It Has Minimal Discomfort and Little or No Health Discomfort
When you utilize a typical laser, your skin will be red and painful for many days. You won't be able to be in direct sunlight, and it will probably irritate you until it heals completely. The PicoSure Laser causes almost little discomfort during the procedure, let alone after that. You will feel a faint tingling sensation when the laser creates Pressure Waves in your skin cells. When the operation is over, you will either have no pain or a small redness in the treated locations. If you have some redness, rest assured that it will disappear within one to three hours.
3. Promotes Skin Revitalization and Rejuvenation
The PicoSure Laser, unlike most other lasers, does not burn away your skin and push it to mend itself. The laser can penetrate the dermal skin layers and stimulate collagen and elastin formation. This causes your skin to regenerate itself naturally. Rather than requiring your skin to heal over time from the searing effect of other lasers, the PicoSure Laser will allow your skin to improve and heal back to how it was even 10 years ago, making it appear smooth, tight, and youthful.
FAQs
Is PicoSure Laser Medically Safe?
The PicoSure is completely risk-free. The PicoSure poses no risk because it operates on ultrashort pulses rather than heat. The PicoSure is unquestionably safer than many other skin rejuvenation procedures that rely on heat to create results.
How Long Does the PicoSure Laser Treatment Result Last?
PicoSure therapy results for face scars are permanent.
PicoSure outcomes for aberrant pigment, sun spots, and fine wrinkles are extremely long-lasting. Many patients will choose to undergo maintenance PicoSure treatments once or twice a year after finishing their initial treatments to help retain their outcomes.
What Is the Function of The Focus Lens Array Used in PicoSure Laser Treatment?- Laser Energy
The Focus Lens Array is a series of optics that reconfigures the PicoSure's uniform laser energy into zones of higher and lower intensity within the laser beam itself. As a result, when a laser pulse modified by the focus lens array contacts the skin, a portion of the skin receives a substantially greater energy level, while the remainder receives a lower energy background treatment. Patients who receive treatments with the focus lens array see increased skin renewal and faster skin improvement than patients who receive treatments without the focus lens array.
GET CLEARER SKIN WITH A PICOSURE LASER IN LOS ANGELES, CA NOW!!!
If you are in Los Angeles, getting your skin treatment at DSC Laser and Skin care center is the first step in getting a successful skin treatment.
DSC is at the forefront of anti-aging clinical research, incorporating innovative technologies for rejuvenation into the aging face treatment routine and promoting speedy recovery after each procedure.
At DSC Laser, we provide in-clinic, video, or phone consultations to discuss your skin goals with one of our professionals, who will analyze your medical history before making any recommendations.
Contact us for free consultations.